Oyo State Former Transition Committee Members (OFORTRACOM) has accused leaders the Unity Forum within the All Progressives Congress (APC) of being behind fake news that are causing crisis among party gladiators in the state.
OFORTRACOM, in a statement released by its State Coordinator, Hon. Bakare Akomola and State Secretary, Hon. Ganiyu Tajudeen, accused Unity Forum leaders of being behind the news stories titled "PHOTOS: Florence Ajimobi, Ogunesan, Buhari, Others Moves Against Omodewu Ahead of APC Congress"; "Oyo: Concerned APC Members Counter Rumours Against Florence Ajimobi, Slam Slanderers"; and "Oyo APC Chair: Oke, Florence, Adeolu, Peller, Ogunesan, Back Unity Forum Leader, Abu Gbadamosi to cause disaffection among the mainstream APC.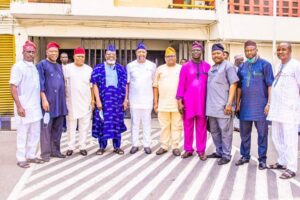 The statement read in parts:
"Our impeccable sources within the splinter group "Unity Forum" revealed to us that Prof. Adeolu Akande, Senator Ayo Adeseun, Alhaji Fatai Ibikunle and Barrister Adebayo Shittu are sponsoring fake news in order to destabilize Oyo APC and Ajimobi Legacy Forum (ALF)".
"We are authoritatively dispelling the fake news that former first lady Florence Ajimobi, Senator Abdulfatai Buhari, former secretary to Oyo State Government, Alhaji Lekan Alli, former Oyo State head of service, Mrs. Hannah Ogunesan, former finance commissioner, Mr. Zach Adelabu, former Commissioner for works, Alhaji Wasiu Dauda and some top members of Ajimobi Legacy Forum (ALF) have endorsed Engr. Yekeen Abolade and/or moving against Hon. Isaac Ajiboye Omodewu in his bid to succeed Chief Akin Oke as Oyo State APC Chairman".
"It is a pure figment of Unity Forum leaders' imaginations that Madam is not comfortable with Hon. Omodewu as next State Chairman of Oyo APC. Omodewu remains a leader in Ajimobi Legacy Forum (ALF) and a great chieftain of our party. There is nothing absolutely wrong in his quest to become next chairman of our great party".
"Hon. Omodewu's integrity and loyalty to Ajimobi political dynasty are unquestionable. Therefore, APC members should discountenance fake news being sponsored by Unity Forum elements to discredit our leaders and polarise Oyo APC".
"It is visible to the blind and audible to the deaf that the Unity Forum elements are trying to use "Divide and Rule" tactics to hijack APC structure. Some of their weapons of destruction include sponsoring fake news, forging of the party's congresses results and masterminding crises among our trusted and upright party leaders".
"We will not fold our arms and allow the same Unity Forum elements to destabilize Oyo APC just like they did in 2018. It is sad to recall how Prof. Adeolu Akande, Alhaji Fatai Ibikunle, Barr. Adebayo Shittu, Senator Monsurat Sunmonu, Senator Soji Akanbi, nine (9) serving members of House of Representatives, eighteen (18) members of the Oyo State House of Assembly, former state and federal lawmakers, former 28 Local Government Chairmen and several other political appointees dumped APC for ADC. After their woeful performance, they coalesced with PDP to dethron our party in 2019 governorship elections. Despite working against us, late former Governor Abiola Ajimobi-led Oyo APC won two senators, 9 house of Reps and 5 house of Assembly members".
"We expected the Unity Forum elements to return to Oyo APC remorsefully but reverse is the case. Leaders and members of the mainstream Oyo APC should not fall cheaply to their antics. We have uncovered that the Unity Forum leaders' main goal is to cause irreconcilable crises within the party".
"We are appealing to Senator Ibikunle Amosun to call his people (Unity Forum elements) to order or he loses all the respect we have for him as a former governor".
The group warned Unity Forum leaders to stop throwing spanners to the wheel of progress of Oyo APC.