The Nigeria President, Muhammadu Buhari mourns the passing of popular Kano-based industrialist Sani Buhari Daura who died on Sunday at the age of 90.
The President expressed heartfelt condolences to the Daura families in Katsina and Kano, as well as Governments of both States.
The late Daura was the chairman and founder of many companies such as Bayajidda Nigerian Limited, Standard Construction Limited, Buhari Properties and Development Company and Katsina Oil Mill.
His company, Standard Construction Limited, built one of the most famous edifices in Abuja — the Ship House, which is now occupied by the Ministry of Defence.
The company also built NEXIM Bank and Lion Bank offices in Abuja, among many other roads, hospitals and schools.
President Buhari described the death of Sani as "a great loss not only to Katsina and Kano states but also the entire country because of his role in the country's economy."
"The late Sani Buhari was one of the oldest pioneer businessmen in the country who contributed immensely to the economy and helped to create jobs for hundreds of people.
"Men like Sani Buhari rose to success through sheer hardwork and drive", the President said in a condolence message issued on Sunday by his Senior Special Assistant on Media and Publicity, Garba Shehu.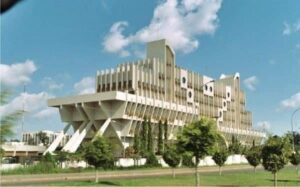 According the President, "the late Sani Buhari had demonstrated that "we can achieve success through labour," adding that "his life story is inspiring because of his commitment to hardwork and perseverance."
He wished the deceased families in Daura and Kano, as well as Government and  peoples of the two states the fortitude to bear the loss.