In her bid to thwart Hon. Isaac Ajiboye Omodewu's chairmanship aspiration of the All Progressives Congress (APC) in Oyo State, former first lady of Oyo State, Mrs. Florence Ajimobi met with former governors Rashidi Ladoja and Adebayo Alao-Akala on Wednesday.
Inside sources revealed that the purpose of Mrs. Ajimobi's meeting with her husband's predecessors was to sell the candidature of Engr. Yekeen Abolade as next State Chairman of the party.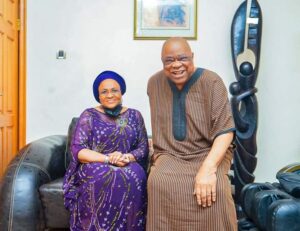 Abolade, a protégé of Hon. Wasiu Dauda Azuzu, was immediate past executive chairman of Iseyin LGA.
According to a former aide to late Ajimobi who spoke to our correspondent on the condition of anonymity, Mrs. Florence Ajimobi, former secretary to Oyo State Government, Alhaji Lekan Alli, former Oyo State head of service, Mrs. Hannah Ogunesan, former finance commissioner, Mr. Zach Adelabu, Senator Fatai Buhari, former Commissioner for works, Alhaji Wasiu Dauda and some top members of Ajimobi Legacy Forum (ALF) have endorsed the former council boss for the position of state party chairman in the October 31st State congress, holding at Obafemi Awolowo Stadium, Ibadan.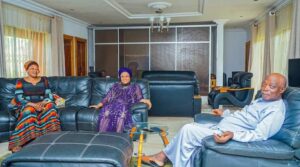 He further revealed that the former first lady had met with the two-term commissioner Omodewu before she processed to lobby former governors Ladoja and Alao-Akala.
"Madam is not comfortable with Omodewu as next State Chairman of Oyo APC. She believes is not controllable. Though, Omodewu is among the topmost loyal disciples of late Ajimobi, Abolade will be more accountable to madam" he stressed.
Mrs. Ajimobi is backing Engr. Joseph Tegbe and her son-in-law, Kola-Daisi to clinch 2023 APC governorship and Oyo South Senatorial tickets respectively.
Another chieftain of the party and former Commissioner under Ajimobi's administration, however, told The State Affairs NG that ALF has divided into camps ahead of the party's state congress.
"Former first lady, Florence is leading a camp to enthrone Abolade while the other one, comprising former political appointees and former lawmakers are rooting for Hon. Isaac Ajiboye Omodewu. I was privy to a meeting between Omodewu and Florence Ajimobi yesterday. Mama has told Omodewu to his face that she is fully with Abolade and no Jupiter can change her decision" he said.
All efforts to get Omodewu's reaction to Mrs. Florence's move against him proved abortive as he refused to respond to phone calls.
The State Affairs NG reports that Hon. Isaac Ajiboye Omodewu (Itesiwaju LGA), Alhaji Abu Gbadamosi (Kajola LGA),  Engr. Yekeen Abolade (Iseyin LGA) and Hon. Dele Akinleye (Itesiwaju LGA) have been cleared by Engr. Idris Adeoye-led Screening Panel to vie for state chairmanship seat of Oyo APC in the Saturday rescheduled congress.