As the All Progressives Congress (APC) in Oyo State holds its state congress on October 30th 2021, prominent party leaders who have served in the executive and the legislative arms of late former governor Abiola Ajimobi's administration are throwing their weights behind Hon. Isaac Ajiboye Omodewu as next State Chairman of the party.
Omodewu who served as honourable commissioner for local government and chieftaincy matters as well as honourable commissioner for Lands and Housing under late governor Ajimobi, was a governorship aspirant of the party in the build to 2019 general elections.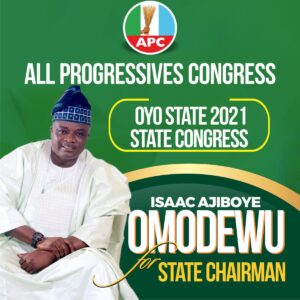 In a statement jointly signed on behalf of former commissioners, special advisers and special assistants under Ajimobi'sadministration, former honourable commissioner Ishola Isaac, former honourable commissioner Deji Akande and former honourable commissioner Engr. Azeez Adeoye described Hon. Omodewu as a noble man who has never left the progressives party for a second in his political career.
"We have analyzed aspirants contesting for State chairmanship position of Oyo APC and we have decided to support Hon. Omodewu because he merits the position not only as a core progressive but his philanthropic support for party members over the years. Another reason reason for supporting Omodewu is because he has no price tag, no moneybag politician can buy his conscience".
"Hon. Omodewu has always differentiated himself from others as an upright and accessible party leaders. He is an experienced public administrator" the statement noted.
Similarly, former council chairmen, vice chairmen, secretaries, councillors, supervisors and transition committee members in a jointly signed press statement endorsed former commissioner Omodewu as a credible replacement for the outgoing state chairman of the party, Chief Akin Oke.
According to a statement signed by Hon. Akanni Ere (Chairman, Ona Ara LGA), Hon. Adeniji Kayode (former vice chairman, Itesiwaju LGA), Alhaji Kola Amoo (former secretary, Ibadan Southeast LGA), Hon. Ajisafe Saheed Olawale (former Secretary, Ido LGA), and Hon. Bakare Akomola (State Coordinator, Oyo State Former Transition Committee Members), Oyo State APC needs a reliable and competent person who can lead the party to electoral victories in 2023.
The former political functionaries noted that Omodewu would use his leadership acumen and state-wide relationships with critical party stakeholders to resolve all the internal crisis currently rocking the progressive family in the state.
"At a critical time like this, we need a man that can bridge the gap. He has the capacity to bring sanity and stability to Oyo APC".
"Omodewu's uninterrupted 8 years as commissioner point to the fact that he is a very trusted person. Among those jostling for the state chairmanship position of our great party, he remains one and only non-controversial party man. He has good image".
"We are appealing to our party leaders, delegates and teeming members across the 33 LGAs of Oyo State to support chairmanship aspiration of Omodewu. He is the right man that fits in for the job" the statement concluded.
On their part, former state lawmakers on the platform of the party said Omodewu stood tall among his co-contestants.
Former Majority leader of Oyo State House of Assembly, Rt. Hon. Kehinde Subair; Rt. Hon. Segun Ajanaku, Hon. D.A Lawal and Hon. Akin Ali, in a statement on behalf of the former lawmakers, stated that Omodewu would not only reposition the party for electoral victories but also reinforce politics of accommodation and ethical standard.
The ex lawmakers called on party members to check Omodewu's past records and give him an opportunity to serve the people once again.
According to them, Omodewu's candidacy is acceptable to majority members of the party. He is a man of the people, a politician who knows his worth and friendly to everyone across the state.