Oke-Ogun4Gov 2023 (O4G23), a pressure group within the All Progressives Congress (APC) has rejected the resolution of party leaders on the zoning template for the Saturday, 16th 2021 state congress.
O4G23, in a statement released by its Director of Media, Hon. Yusuf Olabisi stated that Oke-Ogun 1 has qualified son in person of Chairman of Nigerian Communications Commission (NCC), Prof. Adeolu Akande that is vying for the 2023 gubernatorial ticket of APC.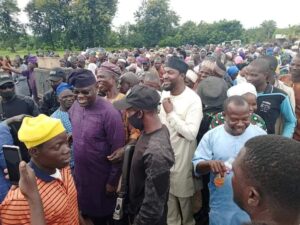 The group is reacting following the move by party's leaders comprising the outgoing state chairman of the party, Chief Akin Oke; the chairman of Elders' Advisory Council, Otunba Adebayo Alao-Akala and other zonal leaders of the party to zone next State Chairman of the party to Oke-Ogun 1 where the NCC boss comes from.
O4G23 faulted the leaders resolution that zoning of party offices would not affect who becomes candidates of party for various elective offices in 2023. The group described the resolution as a calculated attempt to shut door against the gubernatorial aspiration of Prof. Adeolu Akande.
The group emphasised that the party leaders' resolutions lack justice, equity and fairness.
"The gangup of the party leaders against Prof. Adeolu Akande of Oke-Ogun 1 is too obvious. The leaders understand that Prof. Adeolu's gubernatorial aspiration is gaining state-wide acceptability but the only way to halt his moving train is to come up with zoning of next State Chairman of APC to Oke-Ogun 1".
"The so-called party leaders are already scheming to select the next State Chairman from Itesiwaju LGA where Prof. Adeolu comes from".
"Just like Ibarapa APC members rejected the position of State Chairman to pave way for their sons and daughters to vie Senatorial ticket of Oyo South, we are also demanding zoning of state Chairman of the party to Oke-Ogun 2".
"Zoning of State Chairman of the party to Oke-Ogun 2 will provide a level-playing ground for Prof. Adeolu Akande and his co-contenders from Ibadan and Ogbomoso zones".
The group insisted that any attempt by the party leaders to force next state chairman of the party on the people of Oke-Ogun Zone 1 will be resisted.
O4G23 stated further that Oke-Ogun 2 should be allowed to produce the next State Chairman of the party in order for Oke-Ogun 1 to produce next available elective position, which is governor.